180° Projection - adjustable focus, 180 flip, Projection range is 4-12 feet.
Radio - automatic and manual scan the radio, you can save up to 60 channels. The radio also has a manual scan function to make you feel at ease.
Snooze Function and Alarm Function - you can set two alarms at the same time, 7 alarm tones for you to choose. When you don't want to get up, press snooze to stop the alarm and enter snooze mode, the alarm will wait until you cancel the snooze sleep mode.
USB Cable Charging - The USB output on the back of the alarm clock allows you to easily charge your phone or other devices. It also comes with a power adaptor for easier use.
Different brightness - Adjustable projection and screen brightness to meet the different needs of brightness.
More Than An Alarm Clock
The projection alarm clock can project the time on your ceiling or wall, so it's very convenient for you to get an ultra-clear time when you are lying on bed at night.
Projection Time with 180 degree Flip -- Project time onto wall or ceiling, large and clear time will be fully reviewed while lying on the bed. Just repeat-press "Projection" button and time will appear vividly on your wall or ceiling. Turn On or Flip or Turn Off as you needed.
Large screen with 2" ultra clear LED number display, time is easy to read at a glance.
Dimming function allows you to adjust screen time brightness to your preference.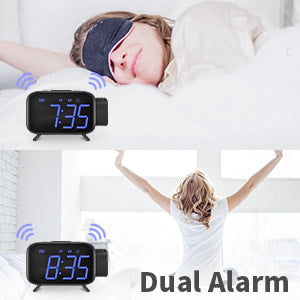 Radio Function & Store-Auto
This alarm clock with dual alarms allows you to set two separate wake times if you and your family have different schedules, Alarm 1 or Alarm 2 as your preference.
The loudest volume is designed for heavy sleepers, generally Volume is perfectly to wake you up. And when you need a few extra minutes of sleep, take advantages of the convenient snooze functions.
Intelligent System
Built-in radio tuner lets you choose from a wide range of free stations more than 60 channels. You can listen to music, news, talk shows, weather forecast, traffic, sports, stories, broadcasts and so on. The antenna at the back of the clock can be extended to strengthen radio signal.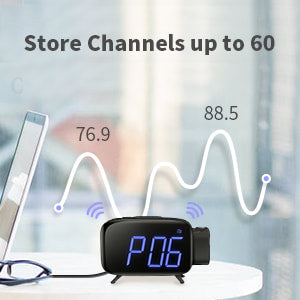 Multiple charging methods
Convenient charging mode, both USB charging and data line charging, to meet the charging needs of different locations at different times.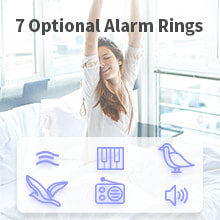 Alternative Alarm Rings
You can freely choose your favorite alarm rings, or it can meet the choice of alarms for different groups of people.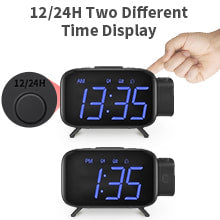 Two-time display mode
​​A variety of time display modes, suitable for more people's habits.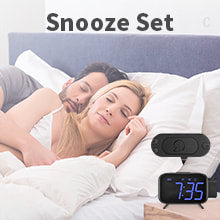 Snooze function design
​You can choose your favorite wake-up mode, Alarm 1 or Alarm 2. The Snooze button on top of clock offers you extra 12 minutes of sleep before alerting you again.