Simulated Massager - 8 4D massage balls provide the simulated massage effect. 45

°

massage angle and U-shaped design, perfectly fits the shoulder.

Thermal Therapy - 113

°

F adapts to the human body, improving the blood circulation and release the pressure.The soft leather material and low noise design allow maximum comfort in the massage experience.

Massage all the Parts - Not only for back and neck massage, but also for waist, shoulder, leg, arm and feet massage.

Easy and Safe to Use - 4 buttons for easy and intuitive operation. Automatic shutdown at the end of the massage time, and equipped with overheating protection.

Free Belt - A 4ft 11in belt allows you to attach the massager to your waist, hand-free. 5ft 11in charging cable at home, enjoying the massage anywhere.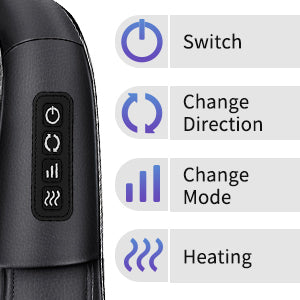 Easy to Use
With 4 buttons, this massager not only helps you get rid of the complex operations, but you can also easily set the mode and pressure you want.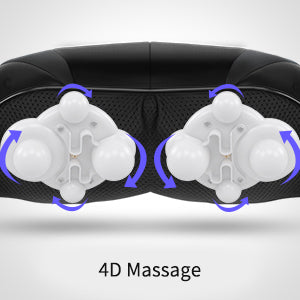 Simulated Massage
Through 8 different sizes of balls, this massgaer provide clockwise or counterclockwise direction massage, showing you most close massage effect and relax your tense muscles.
Change the direction of massage just one button
​High Quality Materials
This massager made of high quality PU leather not only feels soft, but is also easy to clean with a simple cloth.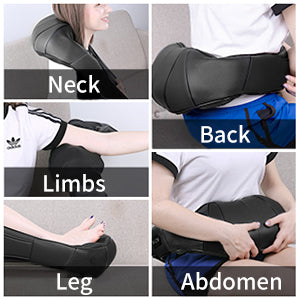 Suitable for all parts of the body
With the U-design, the shoulder massager adapts perfectly to fit your body parts such as your neck, shoulder, leg and so on.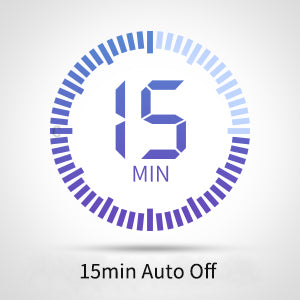 Automatic shutdown function
To protect your health and safety, this massager has an intelligent 15-minute timer that reminds you of the optimal time for a massage. We recommend using the massager for 15 minutes and waiting a while before doing a second cycle of massage.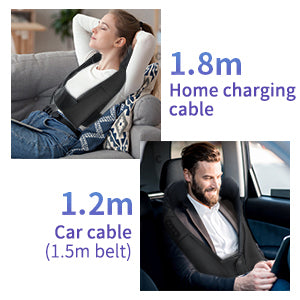 Massage anytime anywhere
Equipped with a home adapter and a car adapter, you can enjoy the massage after a long drive from home to the office or during breaks. With a 4ft 11in belt, you can attach the massager to your waist, relax your hands and enjoy the massage more freely.